Since 2002 Balam Outfitters has hosted Ocellated Turkey hunting in the beautiful jungles of Mexico.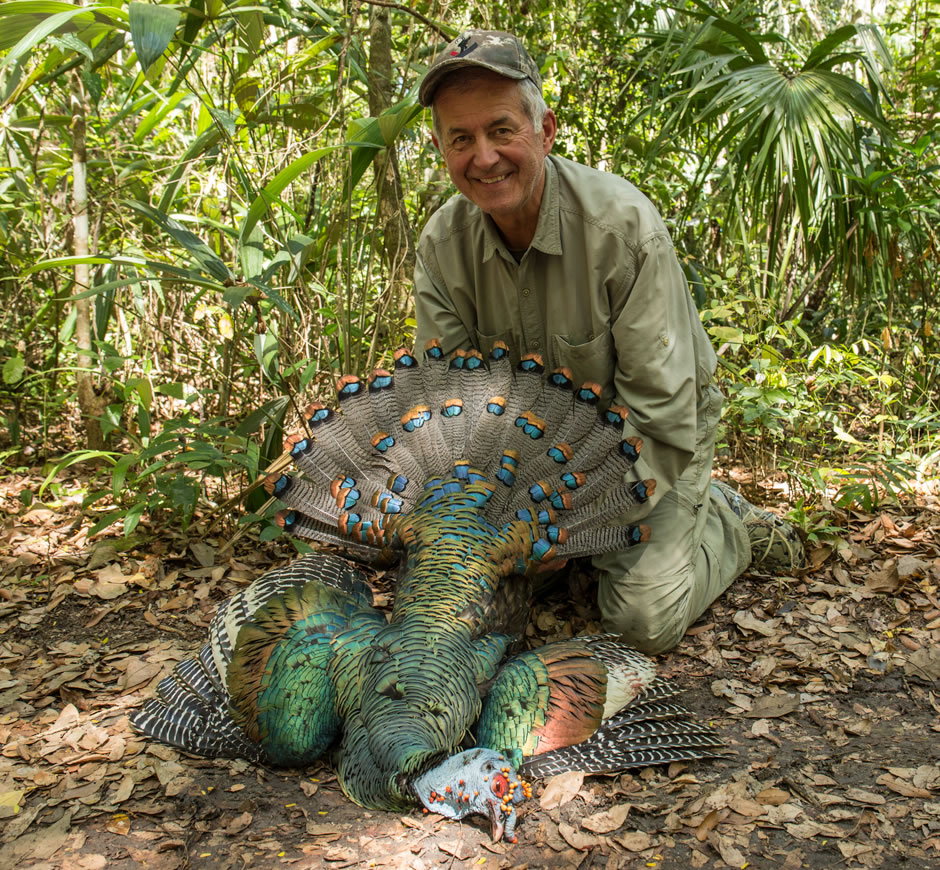 Balam Outfitters is a hunting project founded on the idea of sustainable development through the preservation of over 200,000 acres of jungle.
The most representative bird of southeast Mexico, the Ocellated Turkey is a native to the states of Campeche and Quintana Roo and the neighboring countries of Belize and Guatemala. The only place in the world that the Ocellated Turkey exists is in this part of the American continent.
The Ocellated Turkey has not been able to reproduce in captivity, in a sustainable way, for either harvesting or hunting.
With its rainbow of bright iridescent feathers, the spectacular Ocellated turkey is a true trophy for discriminating hunters.
Similar to the African Duiker, the Brown/Grey Brocket Deer weigh approximately 60 pounds and feature pointed horns that can grow up to 9 inches.

The Brocket Deer are very elusive and hide well in the jungle. This makes them hard to find and tough to hunt.

Hunting Brocket Deer in the jungle is a "close up" hunt as they are usually spotted at distances under 50 yards. We concentrate in areas where the deer feed.
We offer a unique hunting expedition where we take care of all of the details involving logistics, lodging, meals, transportation, guns, licenses, trophy preparation and shipping. Hunting enthusiasts, from all over the world, find that Balam Outfitters is one of the premier places to practice their favorite sport.
At Balam Outfitters, we do everything possible to help you enjoy your stay with us in our beautiful jungle, with its unique scenes and mysterious jungle sounds.
Balam Outfitters is located south Campeche, Mexico on the Yucatan peninsula. Spanning over 200,000 acres of jungle, this is one of the largest habitats for the striking Ocellated Turkey.
Fly into Campeche, MX
Overnight in Campeche at local hotel
4.5 hour drive from Campeche to camp